As part of Abu Dhabi Cricket's ongoing transformation into a world-class multi-sport community hub, eight new 5-a-side football pitches have been constructed within the facility's grounds. All of the Astroturf football courts will be floodlit and will be available for individual bookings from Sunday 18th March.
Abu Dhabi Cricket (ADC), the organisation which promotes the game and community sports in the UAE capital, has partnered with the world-leading coaching operation run by former South African international and World Cup winning coach, Gary Kirsten. As part of the accord, a Gary Kirsten Cricket Coach has joined Abu Dhabi Cricket in a full-time role and four coaching camps will be run by the Gary Kirsten team throughout the year.
This partnership significantly elevates the coaching opportunities open to aspiring cricketers in the UAE through our Zayed Cricket Academy and underlines Abu Dhabi Cricket's commitment to delivering sporting growth opportunities to the local community
Talal Al Hashemi, Board Member, ADC
The partnership follows the success of a Gary Kirsten Camp held last Spring holiday in which youngsters under 14 honed their cricketing skills and understanding of the game. This winter ADC will work with Gary Kirsten Cricket to roll out High Performance Camps, for more senior cricketers who want to take their skills to the next level. The camps will run October 21 – 25 and October 28 – Nov 1.
"Gary Kirsten himself will be in Abu Dhabi to personally lead these camps," explained Al Hashemi. "This means our enrolled cricketers will have the chance to learn from a true record breaker who is renowned for inspiring self-discipline amongst some of the world's greatest players – a rare opportunity indeed."
Gary Kirsten, the current Royal Challengers Bangalore batting coach in the Indian Premier League, is noted for his record-equaling score of 275 against England, an innings that lasted over 14 hours and 30 minutes. He still holds the record for the highest innings by a South African in a One Day International; 188 not-out made against the United Arab Emirates during the 1996 World Cup, which is the sixth highest innings of all time in One-Day International cricket, and the highest score in World Cup cricket history.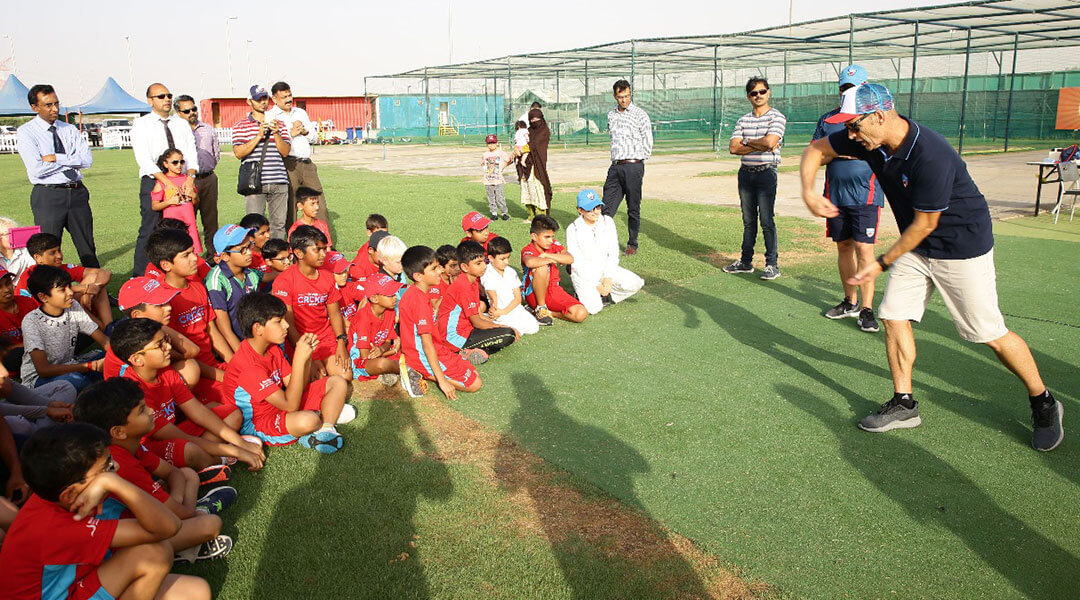 "I've been seriously impressed with the improvements to the Abu Dhabi Cricket infrastructure, in particular the facilities available to academy students and to the footballing community, which are now truly world-class," said Gary Kirsten. "I've come here many times over the years, with England Lions and in other coaching capacities, and this is the best I've ever seen the facility. It's fast becoming one of the world's best cricketing facilities."
"This partnership is something of a meeting of minds," explained Matt Boucher, Acting CEO, ADC. "We both share a determination to enhance cricketing skills and make coaching opportunities available to as wide an audience as possible and develop tomorrow's stars. We're once again strengthening the Zayed Academy for Abu Dhabi's community and for the first time we'll be running High-Performance Camps with Gary Kirsten himself. These camps will be open to overseas applicants together with a range of attractive accommodation and destination travel packages."
It's another fantastic partnership for us and represents a major stride forward in ADC's journey to becoming a prestigious hub for international sport and in particular cricket, which will be further enhanced this year by our packed international cricket programme
Matt Boucher, Acting CEO, ADC
This year Abu Dhabi Cricket's newly expanded 25,000-seater Zayed Cricket Stadium will be co-hosting the prestigious Asian Cup and will once again be a welcome overseas home to the Pakistan Cricket Board's bilateral series' against Australia and New Zealand.
"We're also working on launching a major new tournament initiative which will see some of the world's cricketing legends descend on the UAE capital this winter, details of which we hope to unveil shortly," explained Boucher.
For further information and to register for Zayed Cricket Academy or the Gary Kirsten High Performance Camp, please contact [email protected].