The inclusive six-a-side cricket tournament welcomes the iconic Pakistani and Australian cricketers to the capital for the Grand Final on May 3
The inaugural 'Happiness Sim Cricket 6s' cricket competition is honoured to announce that cricketing legends Shahid Afridi and Brett Lee have been named as the 2019 Ambassadors for the tournament, thanks to The Ministry of Human Resources & Emiratisation (MOHRE).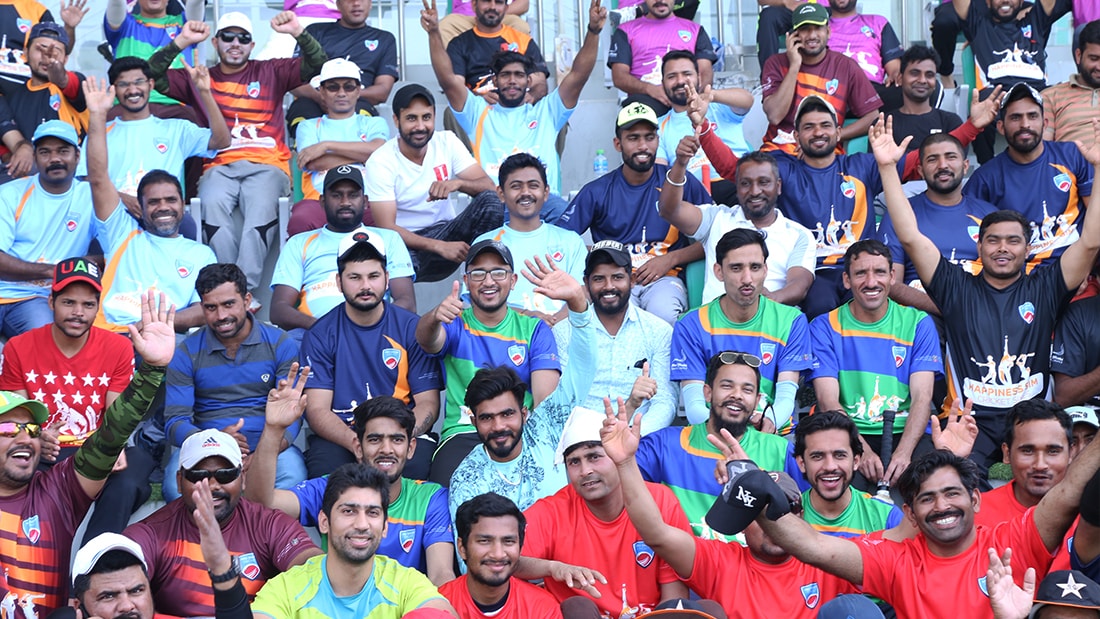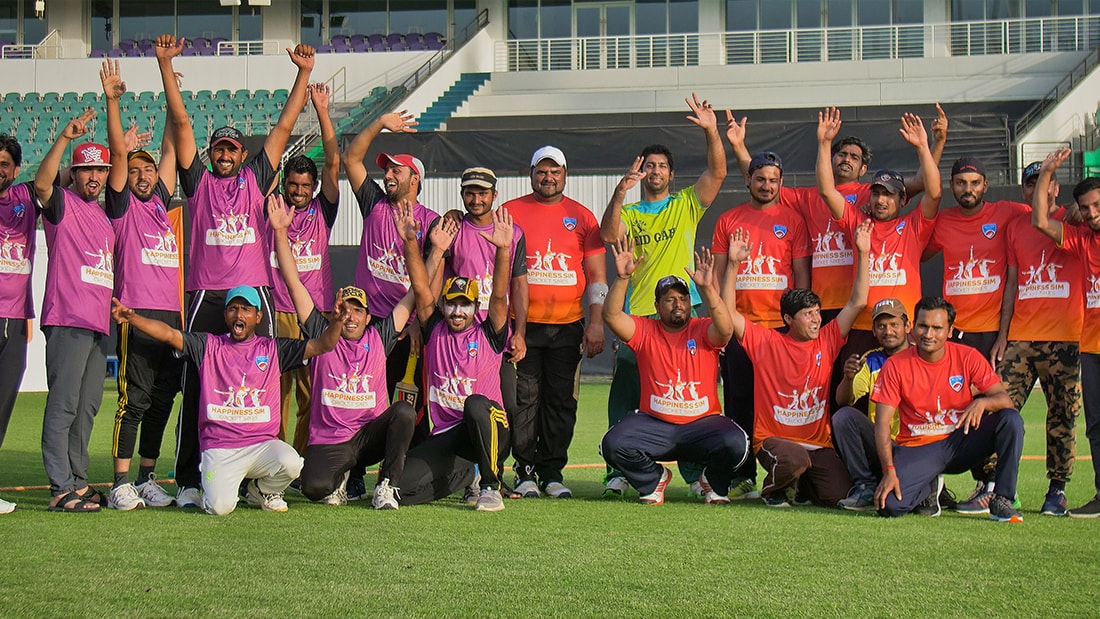 With prolific careers both domestically and internationally, both Afridi and Lee are bound to inspire the 10,000 workers that have participated in the tournament over the coming weeks. Shahid Afridi also known by the nickname 'Boom Boom' is among the most popular cricketers not only in Pakistan but across the cricketing world. Known for his aggressive batting and ability to hit sixes at will, he was a crowd favourite wherever he played during his 21-year long international career. Brett Lee on the other hand was known for his consistency of pace, bowling deliveries of over 150 kilometres per hour (93 mph) throughout his entire career. Lee is also widely regarded as one of the best pace bowlers ever to have played the sport. Lee finished his test cricket career with 310 wickets, and his One Day International career with 380 wickets.
"Boom Boom" and Lee have committed their time and efforts this weekend to this tournament, by meeting with players, acting as honorary match referees and presenting prizes. The players' involvement is thanks to MOHRE who is spearheading this 6-a-side competition of 50 teams, made up from almost 30 Operative Villages across the UAE.
"I am esteemed and delighted to be appointed as an Ambassador for the Happiness Sim Cricket 6s. I am looking forward to not only seeing some fun-fuelled cricketing action and meeting the enthusiastic participants but also working with Brett for the first time and enjoying some friendly rivalry as dual ambassadors!"
Shahid Afridi, Ambassador, on his appointment
Also commenting about his appointment as Ambassador, Brett Lee said: "This is a fantastic event! I absolutely love community participation in our wonderful game and I'm greatly honoured to be selected as an Ambassador. Community tournaments have the power to do enormous good through the language of cricket. Our game has more than three billion fans across the world, and through tournaments such as these we can give those workers participating something to really look forward to."
After five weekends of competition, the winning five teams of each weekend tournament will go through to a 'Final 5' Grand Final, played under the floodlights on the Tolerance Oval at Abu Dhabi Cricket, just two days after International Workers' Day (1st May) on Friday 3rd May. Both former international players will be in attendance for the final alongside senior dignitaries from MOHRE, including His Excellency Nasser bin Thani Al Hamli, Minister of Human Resources and Emiratisation, du delegates and official representative from Abu Dhabi Sports Council (ADSC) and Abu Dhabi Cricket (ADC).
Qassim Jameel Majed from MOHRE said: "We are delighted to have secured two amazing Ambassadors to head up the first ever 'Happiness Sim Cricket 6s' cricket competition. We are looking forward to being involved not only with this tournament but also by being able to give something back to our nation's incredible workforce. The appointment of both Shahid Afridi and Brett Lee is a major draw not only to our participants but also spectators too – we hope to see as many excited cricket fans as possible at the Grand Final on Friday."
Matt Boucher, Chief Executive of Abu Dhabi Cricket said: "It's been a privilege to host the Happiness Sim competition here at Abu Dhabi Cricket over the past five weeks and we're incredibly excited to confirm Shahid Afridi and Brett Lee as the tournament's inaugural Ambassadors.  I'd like to thank MOHRE for being such brilliant partners over the last 3 months and for enabling us to attract iconic players to Abu Dhabi."
For more information on the tournament, visit: www.abudhabicricket.ae.
About Abu Dhabi Cricket
Abu Dhabi Cricket (ADC) is supported by Abu Dhabi Sports Council and operates under the patronage of His Excellency Sheikh Nahayan Mabarak Al Nahayan.
ADC is ushering in an exciting new era of cricket in Abu Dhabi with significant investment in facilities and operational upgrades. In addition to the iconic Zayed Cricket Stadium the venue now boasts the following impressive facilities: 2 x floodlit nursery cricket ovals, international standard cricket nets facility, 4 x floodlit netball courts, 5-a-side "Soccer City", 4 x multi-purpose floodlit Astroturf pitches and  5 x FIFA approved grass, floodlit football pitches.
ADC was founded on 20th November 1996, with the impressive Zayed Cricket Stadium, considered among the world's best, being completed in 2005. The Stadium's inaugural international match was staged between India and Pakistan in April 2006 and was attended by 20,000 enthusiastic fans.
Zayed Cricket Stadium has hosted a plethora of domestic and international matches since that day. The electric atmosphere of the Pakistan vs. India match was rivalled when the Indian Premier League arrived in 2014.
2018 saw the stadium's biggest season to date with over 75,000 fans flooding the stands throughout the 2018 ACC Asia Cup, Pakistan vs. Australia series, Pakistan vs. New Zealand series and of course the inaugural Abu Dhabi T20 – during which six of the world's biggest T20 franchises descended upon the UAE capital to vie for championship honours.
Though cricket is at the core of operations, ADC also prides itself on the world class facilities available, catering to sportsmen and women of all ages and abilities from elite international players to community sports enthusiasts.
In addition to the international cricket season that was, ADC has also welcomed and hosted the likes of the England and Wales Cricket Board's (ECB) England Lions for their 2018 tour of the UAE, New Zealand's All Black 7s and Black Fern 7s rugby teams ahead of the Emirates Airline Dubai Rugby 7s (of which both teams emerged champions) and Japan, Oman, Syria, China, Yemen, Iran, Thailand, India and South Korea's football training camps ahead of the 2019 AFC Asian Cup.
The facility has also been used by several other international associations as a winter training destination, most notably many professional English County teams who return year after year for their pre-season camps.
The recent investments to develop the facility have truly ensured that ADC is known for more than cricket. Indeed, Abu Dhabi Cricket has become the home for a range of coaching academies, clubs, groups and schools for football, touch rugby, netball, basketball, squash and much more.
About Abu Dhabi Sports Council
Abu Dhabi Sports Council (ADSC) was established in 2006 by His Highness Sheikh Mohamed Bin Zayed Al Nahyan, Abu Dhabi Crown Prince and Deputy Supreme Commander of the UAE Armed Forces.
ADSC is aligned to the emirate's leadership vision to develop sport and youth activities. The Council promotes an effective, emirate-wide sports calendar that stimulates the desire to participate in quality sports among all Abu Dhabi residents and helps the talented and motivated reach their sporting potential.
The Council also hosts and supports the staging of international world-class sporting events. These include: the annual Abu Dhabi HSBC Golf Championship; the Formula 1TM Etihad Airways Abu Dhabi Grand Prix; the ITU World Triathlon Series; both the Abu Dhabi and Gary Player Invitationals; the FIBA 3×3 World Tour Final; the Red Bull Air Race; the Mubadala World Tennis Championship; the 2017 and 2018 FIFA Club World Cups; the 2019 AFC Asian Cup UAE and the UCI WorldTour event, The Abu Dhabi Tour.
We at ADSC firmly believe that sporting events deliver a host of benefits for the emirate and its residents. These span improved health and wellness, the building of community spirit, the discovering of local talent and the delivery of international exposure of the emirate as a world-class sporting events hub.
For press enquiries please contact:
Anusha Jayasinghe
Abu Dhabi Cricket
T: +971 56 130 2311
E: [email protected]